BruceLeeRealFight:
One of Bruce Lee's best friends and student, Dan Inosanto is showing Bruce Lee's insane 700 lbs boxing bag.
Welcome to BruceLeeRealFight channel. This is a footage of Bruce Lee training at his house backyard. It was taken at the first house Bruce and Linda purchased in Bel Air, California. In the early 1960s, Bruce Lee's workout consisted of punching and kicking exercises stemming from Wing Chun Kung Fu he learned in Hong Kong from Ip Man.
However, in the late 1960s, Bruce Lee's influence on Wing Chun and some of his traditional martial arts practice began to fade from his workout routine. He began supplementing his martial arts training with heavy back work and heavyweight training, which includes punching and kicking a heavy boxing bag. Bruce Lee once said he wants to be able to throw a punch as strong as his leg and he wants to kick as fast as his face.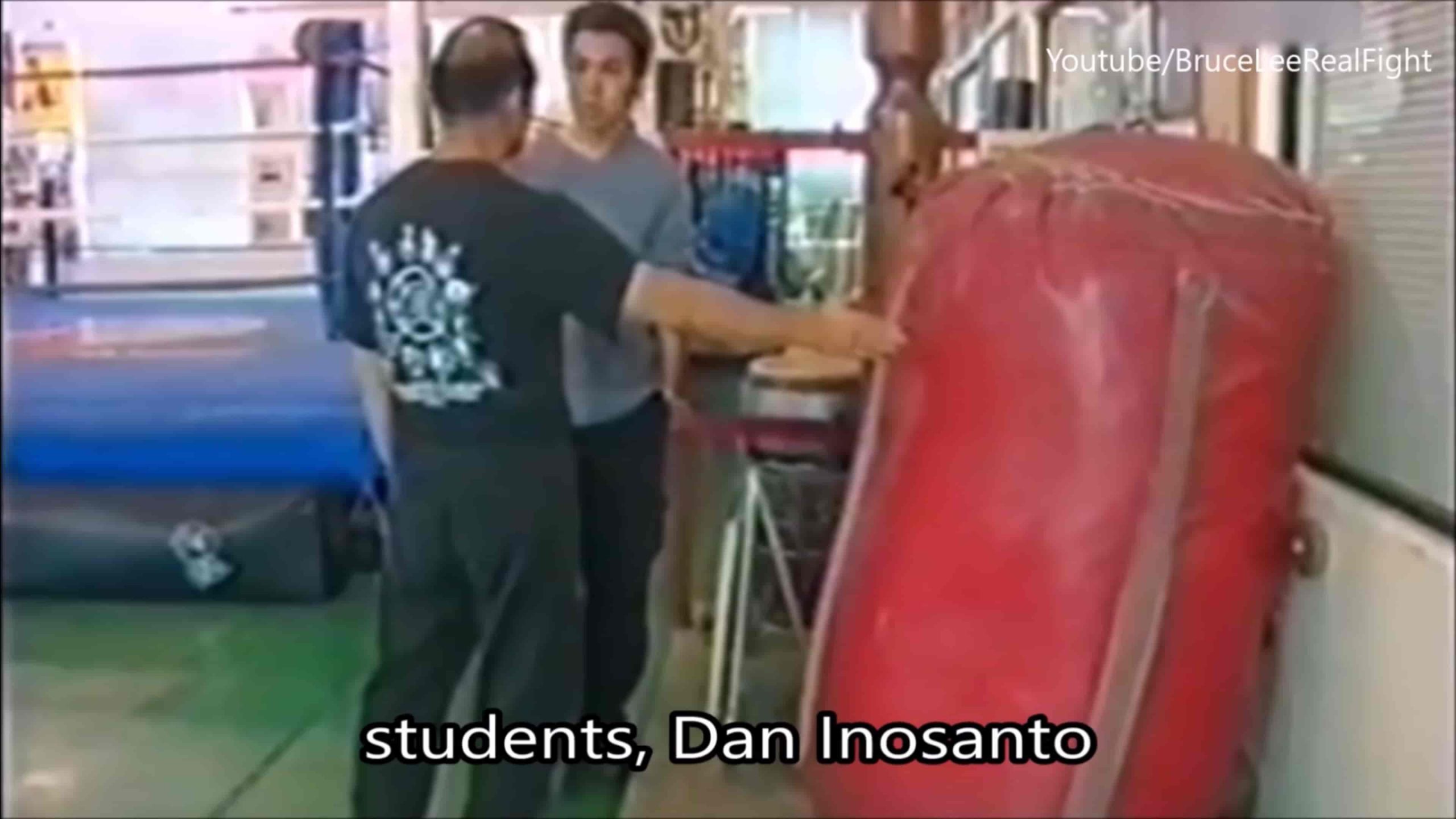 BruceLeeRealFight:
From all the rare Bruce Lee's home videos and some of his movies, we believe he had achieved that. Don't you think so? His kicks are lightning fast and his punches are very powerful. One full-force sidekick from Bruce Lee is able to send a 6 feet tall man flying backwards. His sidekicks can easily result in broken ribs to his opponent. According to Jackie Chan, you can't see Bruce Lee's kick if you blink once. This is because it takes less than one second for Bruce Lee to kick you.
Jackie Chan:
You don't shut your eyes because when you shut your eyes you cannot see Bruce Lee's kick. You know how fast…?
In 1972, Jackie Chan worked as a stuntman on Bruce Lee's "Fist of Fury". He was the Japanese guy who gets a fly kick from Bruce Lee. Jackie Chan was only 20 years old while filming the movie. In 1973, Jackie Chan once again worked as a stuntman on "Enter the Dragon". He became Bruce Lee's favorite stuntman at that time. At Jackie peak, he was able to kick and punch very fast. Therefore, if he said Bruce Lee was way faster than him, that means Bruce Lee is super fast.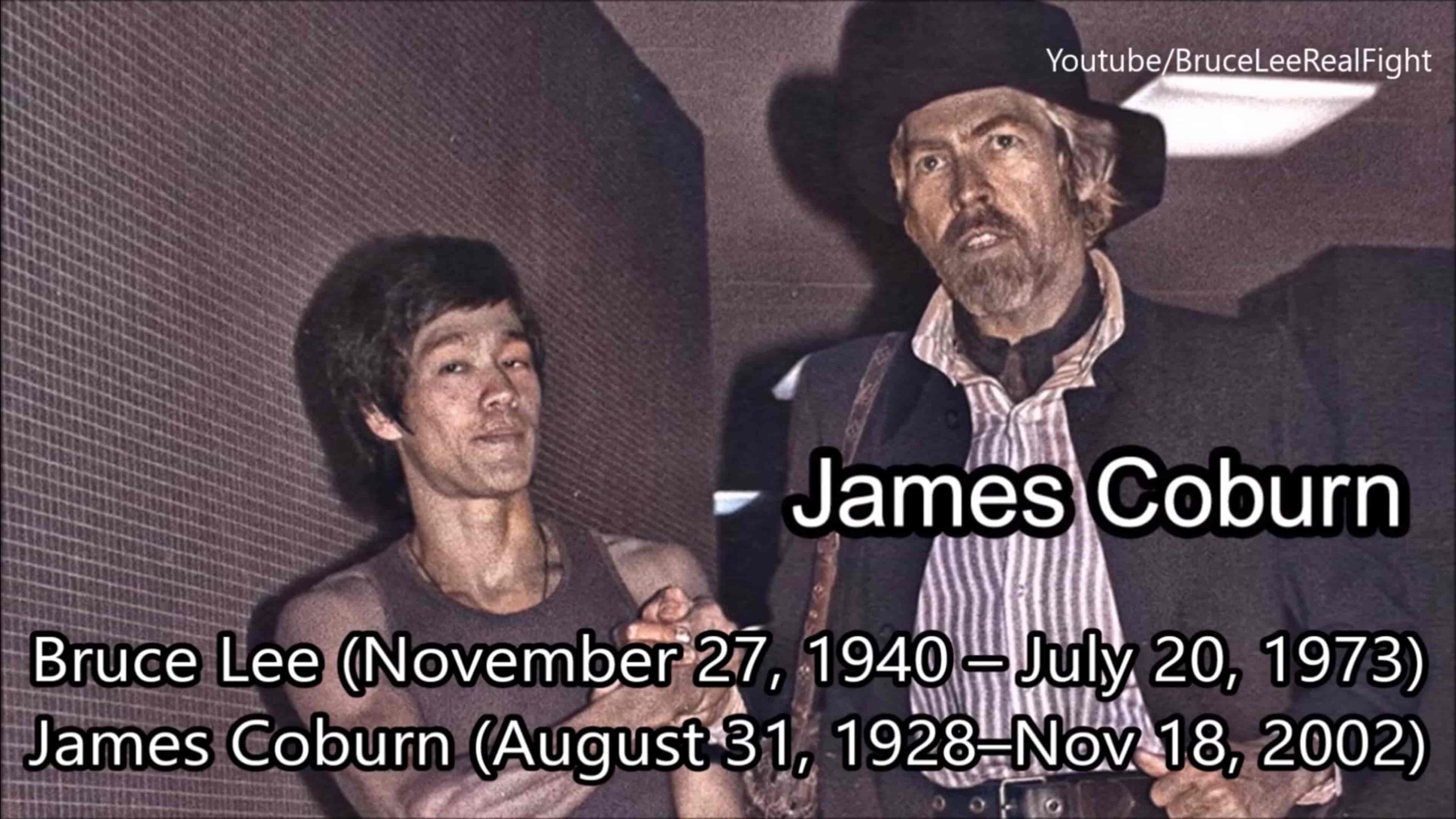 BruceLeeRealFight:
Other than Jackie Chan, one of Bruce Lee's students and also close friends, James Coburn, used to say Bruce Lee trained with a 700 lbs of boxing bag. He witnesses Bruce Lee kicks the boxing bag, sending it slapping against the ceiling.
James Coburn (Actor):
It was awe-inspiring! I mean, he was the fastest moving person you've ever seen and you'd reach out and he was like "poo, poo" all over the place. We used to work out of his place and he had a 700 lbs bag hung on a big l iron, you know, or what do they call them.. stuck in his patio and it would on a big spring and he would kick that thing and double it over. And I would kick it and it would double me over.
BruceLeeRealFight:
From what James Coburn said, it's very obvious that Bruce Lee was too strong for regular heavy bags. A regular heavy bag clock in at around 70 lbs but the one Bruce Lee used is a custom heavy bag, filled with friggin metal, clock in at around 700 lbs, not because Bruce was showing off but because he literally couldn't use a lighter non-metallic one without breaking it.
There are conflicted stories that claim Bruce Lee didn't train with this heavy bag. This is not true because one of Bruce Lee's best friends and students, Dan Inosanto, is still keeping the back. And this is it. Look at this footage, the heavy bag used by Bruce Lee is extraordinar.
BruceLeeRealFight:
Just like many others, James Coburn didn't believe Bruce Lee's ability when they first met. He doubted Bruce Lee's one inch punch because Bruce said his one inch punch is better than anything James did. So, James then challenged Bruce. After a few seconds, James became Bruce's student.
James Coburn (Actor):
I mean, he said I've got a one inch punch that says better than anything you did. And I said, really, I'd like to see that. He's got a pillow and so I stood up, put a pillow in front of me and hold his arm, bang like that, knocked me into the chair, the chair fell down, I rolled over into the corner with a one-inch punch. I got up and I said let's go to work man. That looks like fun.
BruceLeeRealFight:
James Coburn was born in 1928. He is 12 years elder than Bruce Lee. Both of them are born in the year of dragon. James is 6'2" tall and weighs around 190 lbs. Obviously, he is in different class with Bruce Lee. But according to what he said, Bruce is able to knock him over with his one inch punch. Can you imagine how powerful Bruce Lee was? Not only he was able to summon so much power in his fist, but he was able to kick a 700 lbs heavy bag and double it over. Mike Tyson is 5'10" tall and weighs around 240 lbs. So, do you think Bruce stands a chance with him too?
"I've never heard Bruce Lee said about his strength but he kicked me before. I can tell you that kick has at least 500 lbs of power. At least 500 lbs or more." The man in this video is Michael Chan Wai Man. He was a close friend of Bruce Lee in Hong Kong. Both of them know each other in 1971 via Bruce's childhood friend Unicorn Chan when Bruce prepared to shoot the movie "The Big Boss".
BruceLeeRealFight:
Michael Chan was born in 1944. He was 4 years younger than Bruce. In the 1970s and 1980s, Michael was a famous kickboxer in Hong Kong. This is one reason Bruce and him often spend time together looking for ways to maximize their potential. Therefore, Michael was one of the luckiest man on earth who sees Bruce Lee's true power. According to Michael, Bruce is able to generate at least 500 lbs of force with his sidekick. That amount of power is able to break someone's ribs, and that was just one of Bruce Lee's kicks. His true power could be more than that.
In 1983, it takes only 35 seconds for Michael Chan to KO a Japanese kickboxer. Michael was a famous professional fighter and also a street fighter in Hong Kong. So, if he says Bruce had at least 500 lbs from his sidekick, that would be a true thing.
BruceLeeRealFight:
So, what do you think after seeing Bruce Lee's 700 lbs of boxing bag? Do you think he stands a big chance in winning any opponent who is way bigger and heavier than him? Through his workout routines and his dedication to health, fitness and martial arts, he is without doubt an inspirations for generations to come and he was an arguably one of the most influential martial artists of the past 50 years. Please hit the like button if you agree with that.
Last but not least, please do not hesitate to leave a comment and tell us why you think Bruce Lee is able to KO anyone who is way bigger than him in an all-out fight. Please like, share, subscribe and ring the notification bell. Thanks for watching.